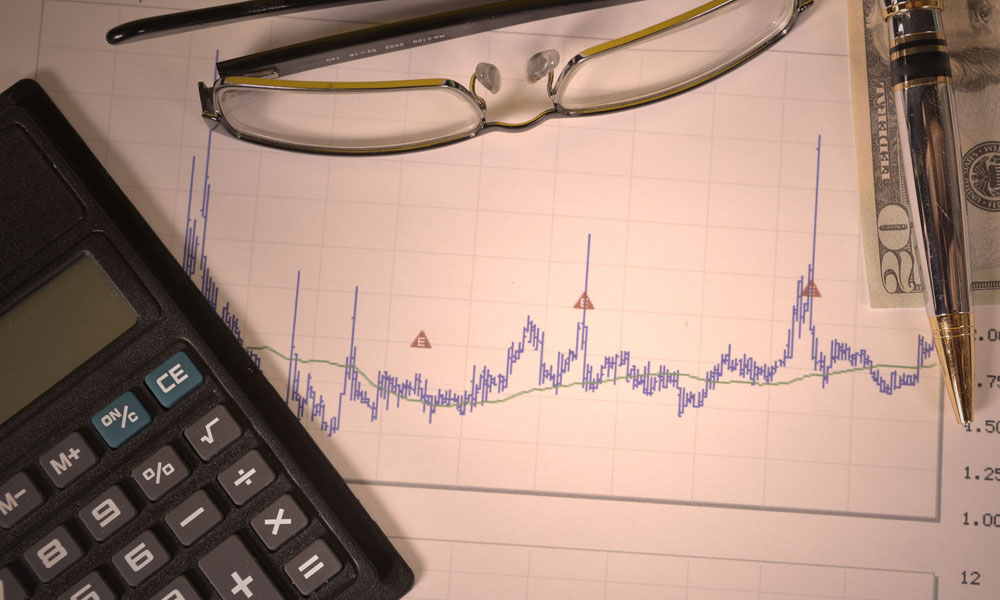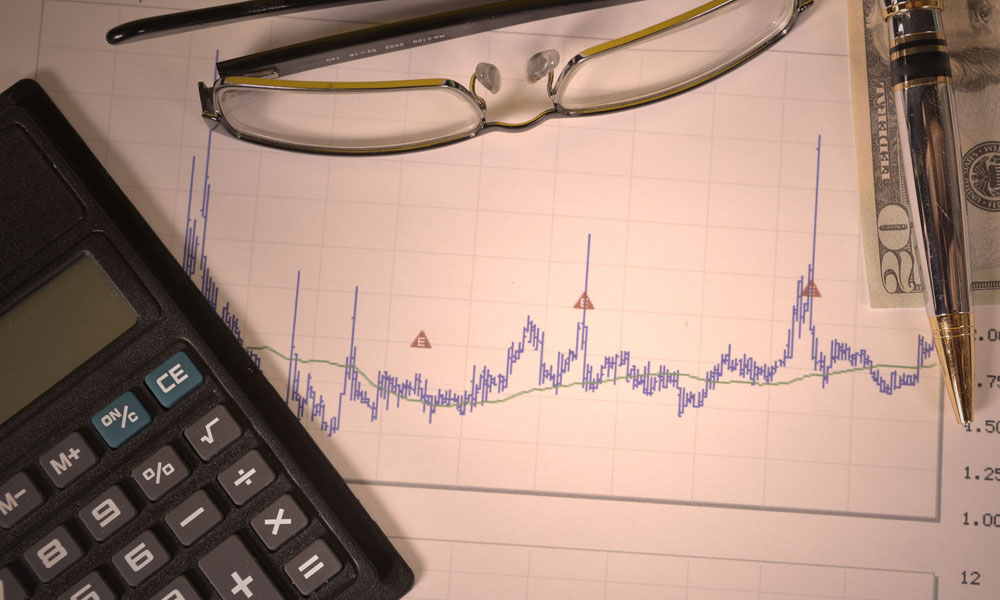 Millions of people dream of early retirement, but few actually take the steps to make early retirement a reality. Early retirement calculators can help you assess where you are and what you may need to change to retire early.
Whether you want to retire at a specific age or within a certain number of years, the right early retirement calculator can help you understand what you need to do to walk away from working life once and for all.
What is an Early Retirement Calculator?
An early retirement calculator helps you assess your investments and the likelihood of a successful early retirement based on a variety of factors. Most early retirement calculators allow you to input your expected savings at retirement and how long you need those funds to last. Based on those factors, the calculator outputs an expected likelihood of success.
Some calculators offer only a few inputs and features, while others give you much more complex and detailed results. Early retirement calculators are popular with people in the FIRE movement.
FIRE stands for "financial independence – retire early." If that sounds like something you can get on board with, check out our favorite calculators below, starting with our favorite retirement calculator from Personal Capital.
1. Personal Capital Retirement Calculator
At InvestmentZen, our favorite early retirement calculator comes from Personal Capital. Personal Capital offers a wide range of investment analysis tools including an early retirement calculator that is absolutely free.
Personal Capital advisors also has full service wealth management services where they charge a fee to manage your entire portfolio, but the portfolio and investment analysis tools from Personal Capital are free.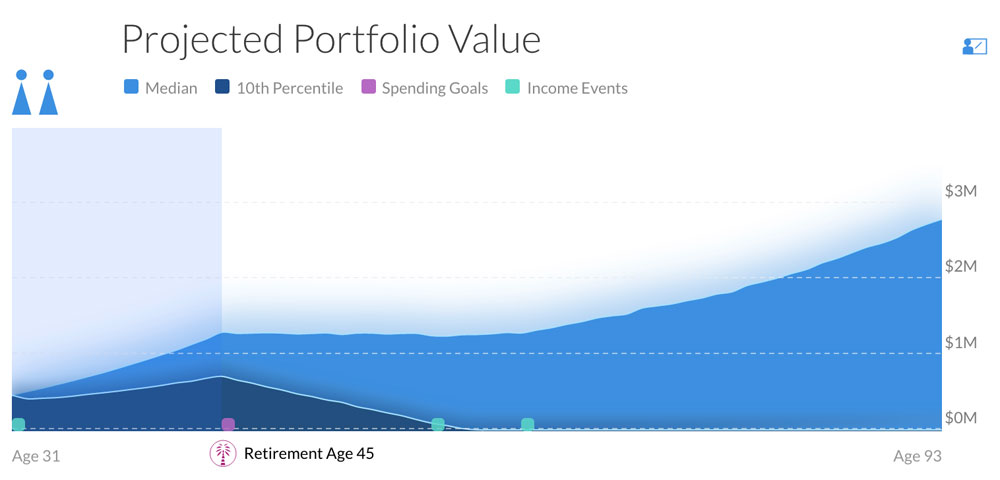 The Personal Capital retirement calculator shows you where you are and the likelihood that your current investment strategy will last as long as you need. In the screenshot above, I plugged in my current age, portfolio, and a target retirement age of 45 years old to see how I would fare.

This powerful calculator showed that I have a 78% chance of meeting my goal of $40,000 per year in retirement based on my current savings, spending habits, and projects retirement contributions. I need to up my game to make it to 100!
Find out how you are doing in several potential early retirement scenarios quickly at Personal Capital.
2. Vanguard Retirement Nest Egg
The simple Vanguard Retirement Nest Egg calculator is another great, free retirement calculator that can help you find how long your retirement nest egg will last once you pull the trigger and retire. Unlike the Personal Capital calculator, this calculator does not pull in a whole bunch of complicated data from your portfolios. It uses a much simpler input method.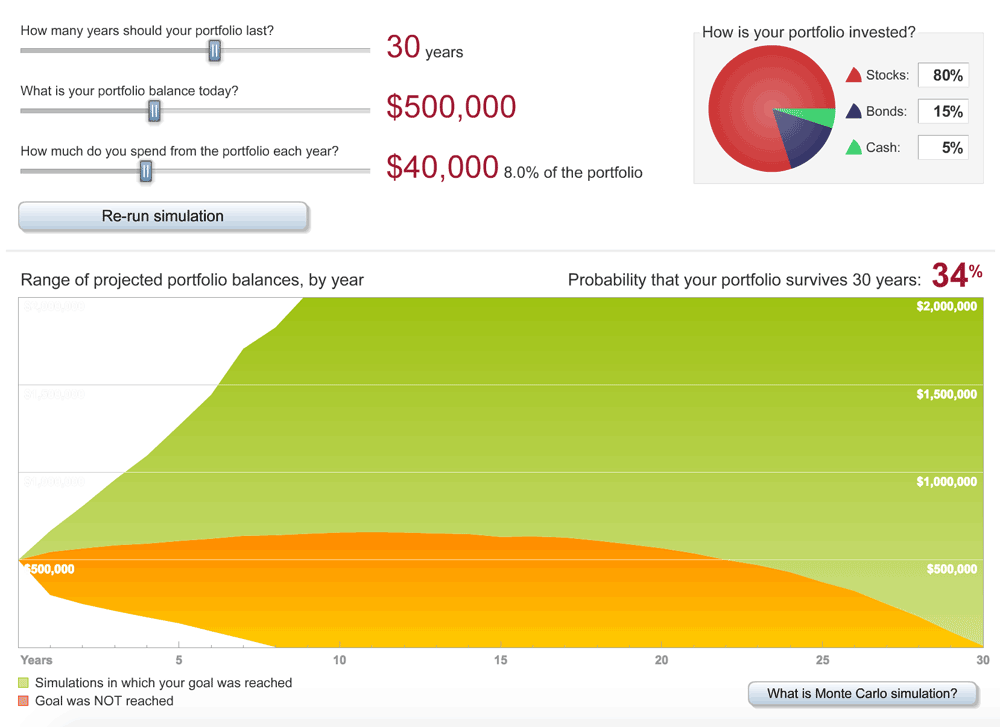 With this calculator, you can input an expected portfolio balance, annual spending during retirement, how long your portfolio should last, and your asset allocation between stocks, bonds, and cash. The output is a likelihood that your portfolio survives as long as you need it to at that expected spending level.
This calculator is best for estimating what you will need to retire at a given age based on your expected spending. Give it a try at Vanguard.
3. The Crowdsourced FIRE Simulator (cFIREsim)
If you are wary of calculators designed by professional investment management firms, check out cFIREsim, an open source early retirement calculator built by voluntary early retirement enthusiasts. This calculator is also free to use, and offers complex inputs through a straightforward interface.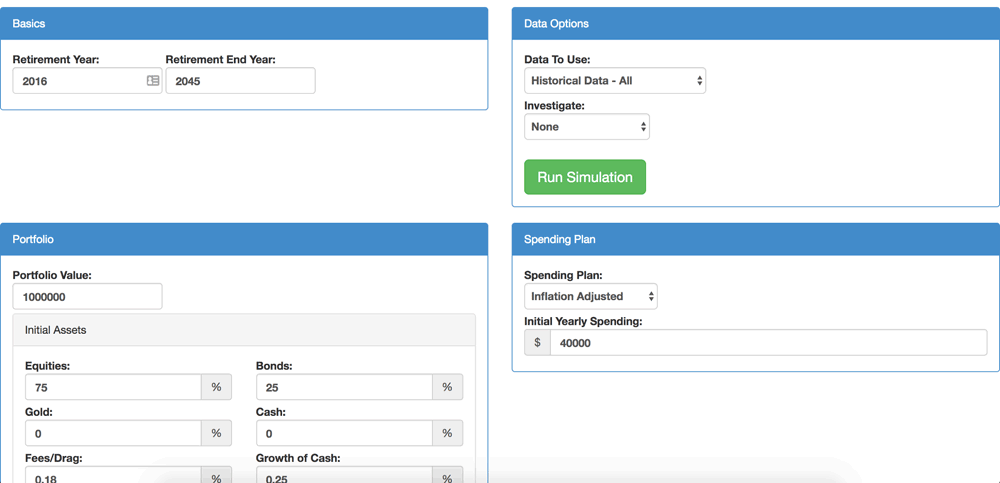 The outputs are impressive. This calculator can run multiple scenarios at once, and simulate variable economic and investment performance conditions in a concise graphical output.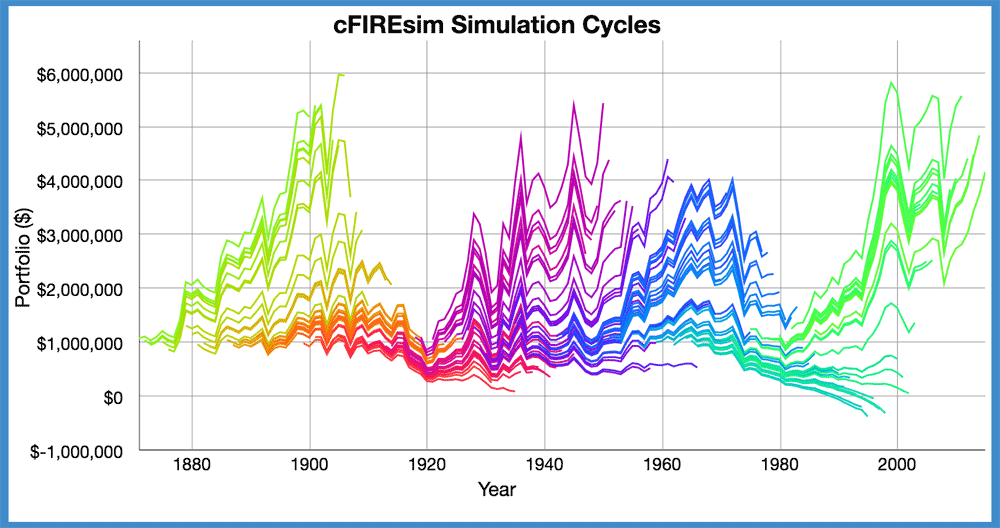 4. FIRECalc
If you are not satisfied with the most likely outcomes and want to see every possible outcome, FIRECalc is for you. This free calculator, currently in version 3.0, gives you the outcomes of your own personal situation had it started in every single year since 1871. This is the most thorough and in-depth output of any early retirement calculator I have come across.
Navigating across the tabs at the top allows you to input your expected portfolio at retirement, and clicking submit at the bottom gives you a very detailed output.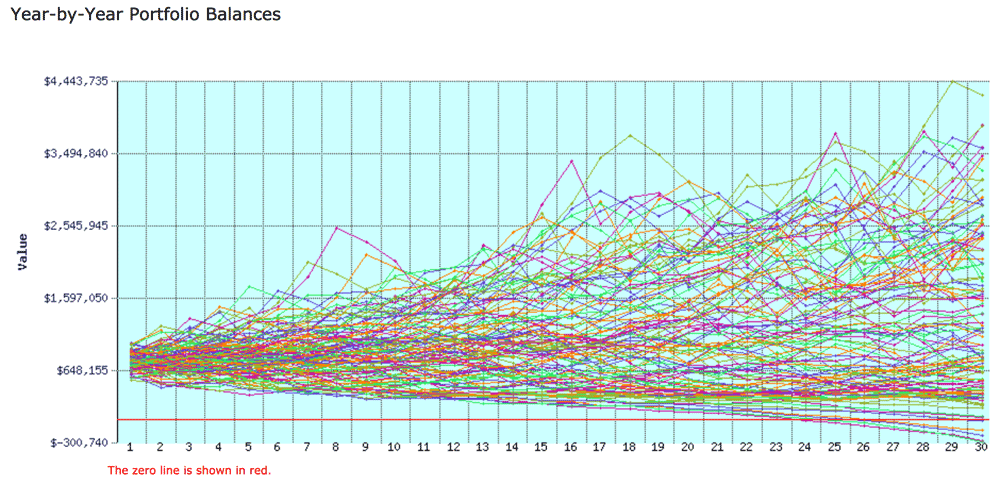 Most retirement calculators are focused on the most likely scenario. This calculator, with its results showing every single market situation for the last 146 years, can offer huge insights.
It also shows that in most situations you will see positive results. The market has always gone up in the long run.
5. The Financial Mentor Ultimate Retirement Calculator
Personal finance author Todd Tressider brings us the Ultimate Retirement Calculator at his site, Financial Mentor.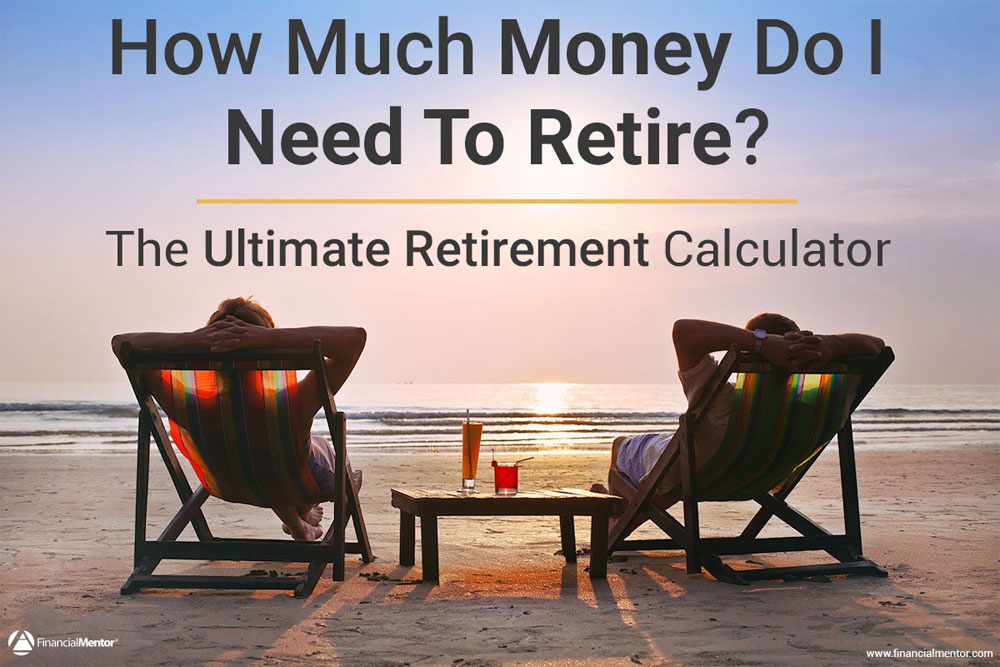 Financial Mentor offers a long list of useful calculators, but the early retirement calculator is particularly awesome. It offers a list of inputs and gives you very useful and actionable results.
Find out how much you will have saved at retirement and how much you need to save each month to reach your retirement goals.
Your Retirement is Too Important to Ignore
Retirement may feel like it is a long way off, but it is coming up faster than it seems. It would be terrible to run out of money during retirement, so it is vital to take the necessary steps to set yourself up for long-term success.
There is a growing problem of people not having enough saved for retirement, and elder poverty is a serious issue that our society has to grapple with. Don't become a statistic. Check out if you are on track for retirement today.
Photo credit: InvestmentZen via Flickr – Creative Commons Attribution License